The artist of the highly controversial and world-famous banana artwork has been sued for plagiarism. The artwork named 'Comedian' consisted of a banana stuck to a wall with duct tape. It eventually sold for €135.000,-.
In 2019, during the Art Basel art fair in Miami, Maurizio Cattelan's work attracted worldwide attention. Soon after the fair, fellow artist Joe Moford stated that Cattelans had copied the artwork 'Banana & Orange' he created in 2000. Moford's older work exists of two parts: an orange attached with tape to a green painting on the wall and a separate work of art depicting a banana stuck on a green background. Moreover, Morford is said to have registered his work 'Banana & Orange' with the US Copyright Office in 2000.
The Italian artist (of course!) never sold the original banana, but he did sell an authentication certificate and instructions on how to install the work. Cattelan allegedly sold three copies of the work, as well as two proofs, for more than $390,000.
Cattelan's lawyers believe that Morford's work is "not sufficiently original to warrant protection." Ultimately, a US judge will have to decide whether there was a slip-up or not.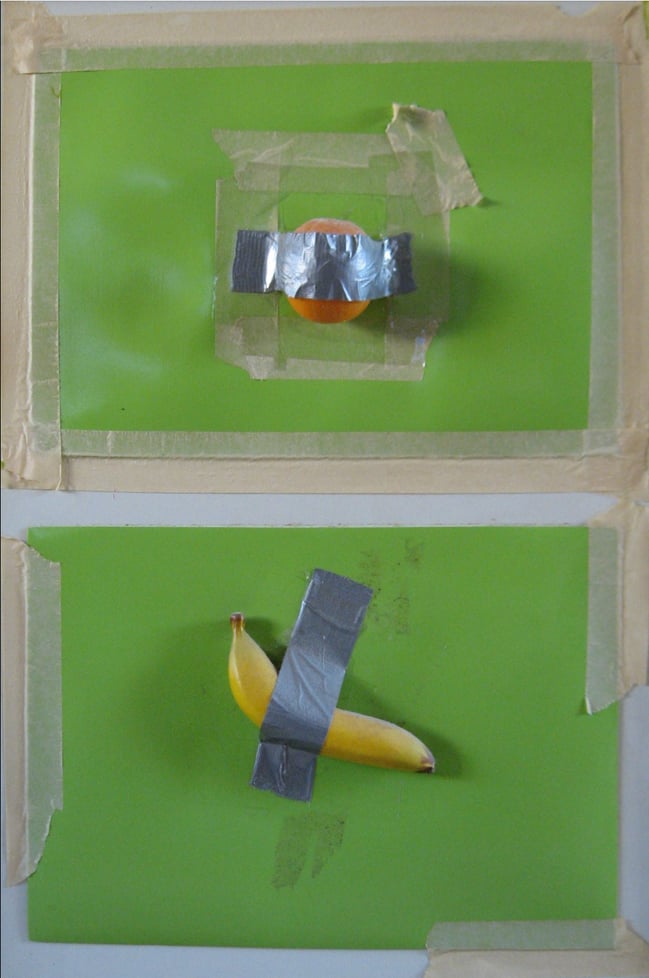 © Joe Moford